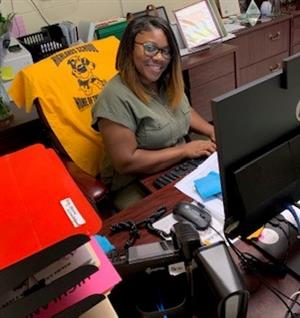 Greetings Highlands Family!
I am extremely honored to serve this community as the Principal of Highlands Elementary School- proud home of the Bulldogs. My staff and I would like to welcome you to an experience in which the wellness and the holistic needs of every student are centered and valued. Students at Highlands Elementary School will be guided by very talented professionals who take great pride in educating, supporting and nurturing all children. As we begin this critical school year, it is imperative that we take every precaution to keep every student safe while learning in an engaged environment.
You may have various questions about the start of the school year, so the following information is provided for your assistance. With our school year beginning both remotely and in-person, our priority is to ensure your child or children are equipped to be successful. All students participating remotely will need to have access to a device (laptop, desktop, i-pad/tablet) in order to participate remotely. If you have not registered your child and paid their registration/technology fee, then you will need to complete this prior to receiving a device provided by the district. All students participating remotely are expected to be visually present and participate during the instructional hours. In addition, all students are required to follow the District's policy for attendance. Students who are absent 10 or more consecutive days will be dropped and will have to re-register. All remote students will follow the attached schedule for their specific lunch breaks and specials. If tech support is needed while participating remotely, please visit the district's website: www.phsd144.net, and click on the green tab which states "Send Message."
All students are required to wear a mask when entering into the school building, throughout the school day, as well as when riding the school bus. Students are allowed to bring unopened water bottles into school, and/or empty water bottles which can be filled with water once in school. The COVID-19 pandemic has made us take extra precautions. Therefore, outside individuals are not allowed to enter our school building. If you are picking your child up for an early dismissal, please follow these new procedures: Contact the main office ten minutes prior to your arrival, come into the school with a mask on, present the proper identification, and sign your child out in the main office; once you have completed these steps, please proceed to wait outside of the school building for your child.
We understand that these procedures will take time to become accustomed to, but we are confident that you will support our every effort to keep all of our students safe.
Also, all parents must self-certify their child prior to coming to school. Several staff have been assigned to check for their certification prior to entry into the building. In the event, a child has not been self-certified, a phone call will be made by the secretary. If the parent/guardian cannot be reached, the child will remain in the isolation room for the day. No child will be allowed to enter into the classroom until they have been certified. Finally, any student that rides the bus and has not been self-certified will not be allowed to ride the bus home.
I am aware that challenges may arise as we adapt to the changes pertaining to this school year, but I am committed to serving as the compassionate leader our school community deserves! I look forward to welcoming all students, parents, faculty and staff to our productive and exciting school year beginning the first day of school Wednesday, August 26, 2020. The school hours for Highlands Elementary School are from 9:00 a.m. – 3:00 p.m. with breakfast beginning at 8:30 a.m. All students will enter through door #2, facing the South entrance of the parking lot.
I leave with you this quote; "Service to others is the rent you pay for your room here on earth" Muhammad Ali
May we all make an effort to serve our children of the future and provide them the very BEST opportunities to meet their fullest potential! Together, we as a Highlands family, can make this a reality!
Educationally Yours,
Ms. Montgomery, Principal
Highlands Elementary School
(708) 335-9773 Ext. 2502