Greetings Nob Hill Family!
Welcome back to another wonderful school year as Nob Hill's BEST! I cannot begin to explain how grateful and humbled my staff and I are to have the opportunity to lead our "Nob Hill's Best" students into a second year that we know will be promising. As a community, our school has accomplished many successes. We are just beginning to embark on our fullest potential. We have shown that Nob Hill has what it takes to compete and win, but that's not satisfying enough for our brilliant minded youth. This year, we want Nob Hill to DOMINATE in this global society. With dedication and perseverance, we can all better prepare our students to become lifelong learners whom are college bound and career ready.
I want to personally take this time to celebrate the gains made and the positive changes implemented at Nob Hill. I owe these strides of success to my entire staff and their unwavering diligence and hard work, but most importantly I owe Nob Hill's success to YOU! Thank you for supporting your child(ren) each and every day to be Nob Hill's BEST! I am confident that what we started, we can continue to build upon with consistency and EFFORT! Our children deserve to learn with hands on activities, implemented best practices as well as rigorous and challenging lessons. My staff and I are prepared to pour our BEST into your child(ren) and we know that you desire the same. We want to thank you in advance for ensuring your child(ren) attends school each and every day prepared to learn. My staff and I look forward to welcoming all students, parents, and community members to an even better school year beginning the first day of school Wednesday, August 22, 2018 @8:20 a.m.
In closing, I want to leave you with this quote from Dr. Martin Luther King Jr.
"If you can't fly then run, if you can't run then walk, if you can't walk then crawl, but whatever you do you have to keep moving forward."
Nob Hill family, thank you for helping my staff and I continue to move our children forward to higher heights and newer challenges!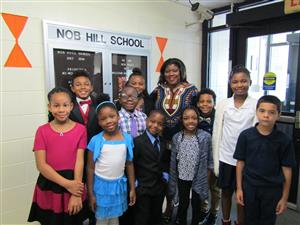 Gooooo TIGERS!
Educationally Yours,
Ms. Montgomery, Principal
Nob Hill Elementary School
(708) 335-9770 Ext. 2701