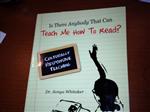 Can Anybody Teach Me How to Read?
by Dr. Sonya Whitaker
Year Published: 2012
These are practical strategies for dramatically improving student learning.
This book provides (1) Practical strategies for improving the learning of students from diverse backgrounds. (2) Teaching techniques to be used for addressing cultural conflicts that serve as counter-productive to student learning. (3) Non-traditional approaches for increased parental involvment.
Respectful of the significant pressures and demands put on educators to produce more results than ever before in the history of public education, this book serves as a quick, yet very powerful read.
"Expect to: experience inspiration and a transformation. Commit to: Doing something different." ~ Dr. Sonya Whitaker, Author